Map and Times
Closed for the Season!
It was a lovely season. The horses shall miss our dear customers, and their pats and carrots and cookies. (If a past visitor should happen by with a carrot or oatmeal cookie, the horses would be delighted to see them even in winter months.)
Have a warm cozy winter. We look forward to seeing everyone next year when the apples return; Lodi applesauce apples early July, big red-fleshed Red Giant crab apples for beautiful magenta jelly early August, and main season apples beginning mid August.
---
First time visitors must be sure to bring the map, and look at the virtual tour of Apple Hill Road to be in good spirits when you arrive. (Even many a GPS cannot find us.) From Louisville, Kentucky, take the Gene Snyder Freeway to Old Henry Road (Exit 29). Go east 2 miles. (Old Henry curves left, then jogs right.) Turn right on Apple Hill Road (click for a tour) for 0.7 mile. Where Apple Hill forks, take the middle fork. When you see a red pole gate, open it up and come on back. Continue along the black rail fences. When you think you are lost, you are almost there. When you see the green umbrella, you have arrived.
If you feel lost, call 502-767-5245, leaving neighbors to rest in peace.
During apple season, apples are still $7 for a ~10 pound bag, a smaller bag for $5, 3 apples for a dollar, and $25 for a bushel (4 ~10 pound bags) with special rates for groups. The honey man may stop by with local honey. And there are still kitties and horses who are looking forward to seeing you.
Check About Us for more on the orchard over the winter. The trees bloom in the spring, and most of the crop will be ripening at the end of August and in early September.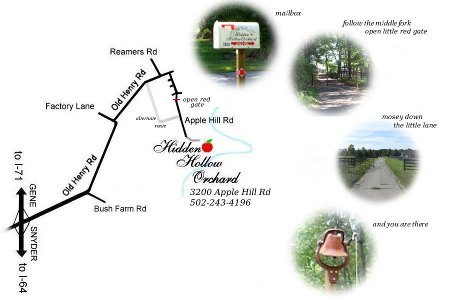 Click the map or here for a larger version you can print. The virtual tour of Apple Hill Road to the orchard will help too. When you're almost there, what you see around you will look like this.

Hidden Hollow Orchard 3200 Apple Hill Road Louisville, Kentucky 40245

For more information call (502) 767-5245 or (502) 897-0719 or email.
apples@hiddenholloworchard.com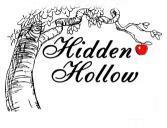 Guide



&copy 2015 Hidden Hollow Orchard
All Rights Reserved