Map and Times
The 2017 apple season is coming soon!
If the weather continues to be kind, there should be lots of apples.
If all goes well, we shall open August 26th.
Meanwhile find a place with good weather to enjoy the August 21st eclipse a little south of here.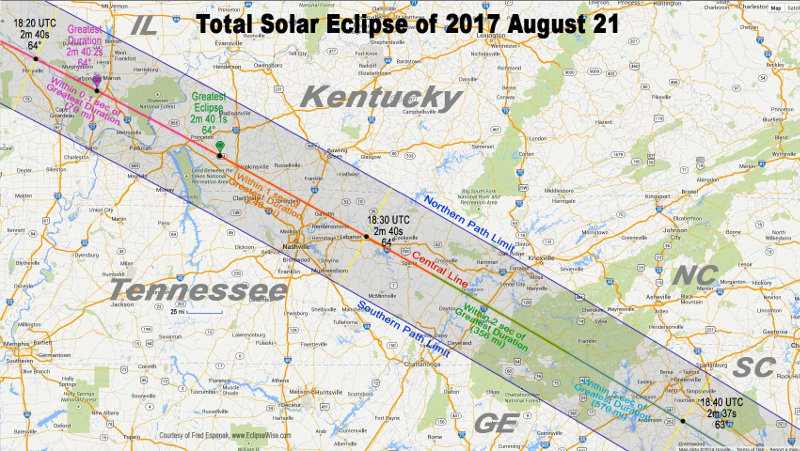 Click the map for a larger version. Credit: Fred Espenak
At the orchard 7 ponies shall be on duty, available to eat carrots. They very kindly posed for their portrait, after a fashion. Left to right Whinny the Pooh, Itty Biddie, Dixie Belle, Josie, Minnie Pearl, Opal, and Doris de Horis.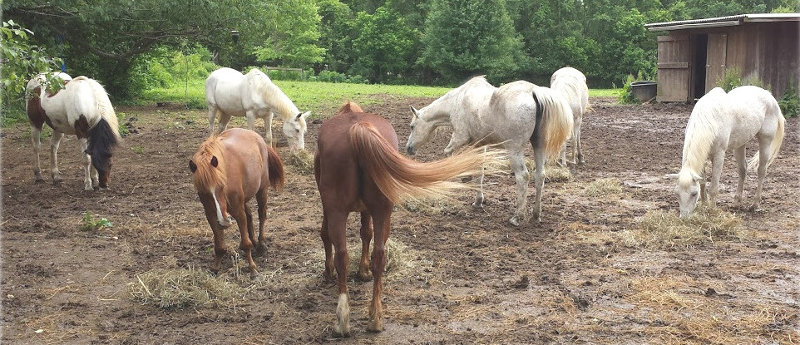 Feel free to bring LARGE carrots (not to be confused with little fingers) to make the rescued ponies feel loved and happy. (Instructions: fingers at one end of carrot, pony at the other.) Naturally past visitors may come anytime they like, to visit the ponies, even if there are no apples. (If anyone would like their own energy efficient lawn mower / yard ornament, this is where to look: Kentucky Equine Humane Center .)
---
First time visitors must be sure to bring the map, and look at the virtual tour of Apple Hill Road to be in good spirits when you arrive. (Even many a GPS cannot find us.) From Louisville, Kentucky, take the Gene Snyder Freeway to Old Henry Road (Exit 29). Go east 2 miles. (Old Henry curves left, then jogs right.) Turn right on Apple Hill Road (click for a tour) for 0.7 mile. Where Apple Hill forks, take the middle fork. When you see a red pole gate, open it up and come on back. Continue along the black rail fences. When you think you are lost, you are almost there. When you see the green umbrella, you have arrived.
If you feel lost, call 502-767-5245, leaving neighbors to rest in peace.
During apple season, apples are still $7 for a ~10 pound bag, a smaller bag for $5, 3 apples for a dollar, and $25 for a bushel (4 ~10 pound bags) with special rates for groups. The honey man may stop by with local honey. And there are still kitties and horses who are looking forward to seeing you.
Check About Us for more on the orchard over the summer. Most of the crop will be ripening at the end of August and in early September.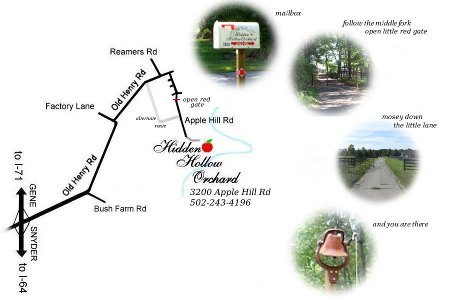 Click the map or here for a larger version you can print. The virtual tour of Apple Hill Road to the orchard will help too. When you're almost there, what you see around you will look like this.

Hidden Hollow Orchard 3200 Apple Hill Road Louisville, Kentucky 40245

For more information call (502) 767-5245 or (502) 897-0719 or email.
apples@hiddenholloworchard.com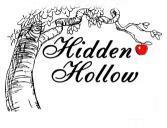 Guide



&copy 2017 Hidden Hollow Orchard
All Rights Reserved